Hiroshima: The Day the World Changed Forever
The United States dropped the first atomic bomb on the city of Hiroshima, Japan, 74 years ago. In addition to killing tens of thousands of people, that moment changed the world forever.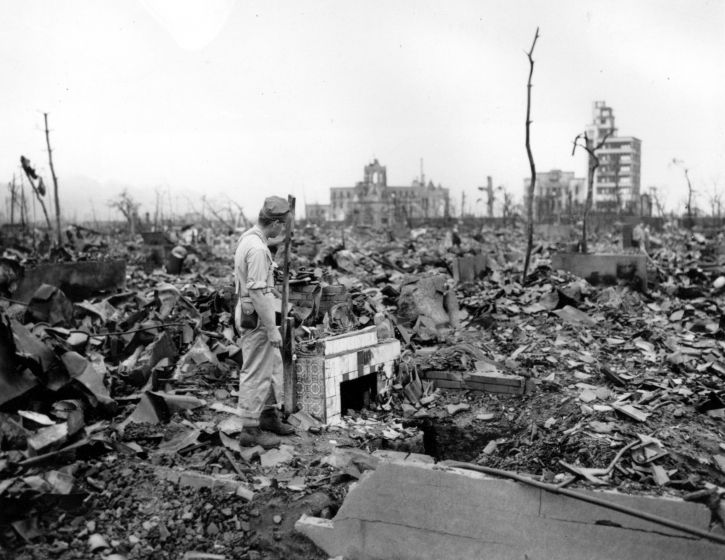 A bell tolls every year on Aug. 6 in Hiroshima, Japan. Nearly everything in the city (including traffic) comes to a stop for a few minutes. As the bell rings, citizens of Hiroshima take time to reflect on the horrors that city experienced on Aug. 6, 1945.
At that time the Japanese empire was at war with the Allied nations. A little over 3½ years earlier, Japanese forces had staged a surprise attack on the U.S. naval base at Pearl Harbor, Hawaii, killing or wounding nearly 3,600 servicemen and women. That unprovoked attack drew the United States into World War II.
The day the nuclear age was born
On that clear and bright August morning, a Boeing B-29 Superfortress (named the Enola Gay), flying at an altitude of nearly 6 miles, released a 9,700-pound bomb on the city of Hiroshima. This bomb was code named Little Boy. It dropped for about 43 seconds before detonating. When it did, history changed forever. It was the first atomic bomb to be used in battle and ushered in the beginning of a new era of warfare.
The port city of Hiroshima was chosen because it contained naval and military installations, as well as a large civilian population. When Little Boy detonated, between 60,000 and 80,000 people died almost instantly. Most of these never even realized a bomb had been dropped.
Three days later, a more powerful atomic bomb (code named Fat Man) was dropped on the city of Nagasaki, ultimately killing an additional 70,000 people. Six days later Japan announced its unconditional surrender to Allied forces, officially ending World War II.
In the ceremony last year, Hiroshima mayor Kazumi Matsui described the hellish scene that changed the world that morning. He asked those listening to be quiet and listen "as if you and your loved ones were there."
Mr. Matsui also warned that global tensions are rising, and nations are modernizing their nuclear arsenals. He said, "If the human family forgets history or stops confronting it, we could again commit a terrible error. That is precisely why we must continue talking about Hiroshima."
The problem is deeper than nuclear weapons
Nuclear weapons are truly frightening. But they are not the only danger we face. People have designed and used deadly weapons of all kinds. And in one sense, what real difference does it make to a soldier or a civilian whether he or she is killed by an atomic bomb, a hand grenade or a bullet? Or, as in ancient times, an arrow, a spear, a club or a rock? Killing is still killing, and human beings have been doing it since Cain slew his brother Abel (Genesis 4).
Nearly every weapon mankind has invented has been used—which paints a bleak picture of mankind's future, barring some major change.The difference, of course, is the massive scale. There is no way men would be capable of destroying all life on earth with rocks and arrows, or even bullets and conventional bombs. But with the terrifying level of destruction possible with atomic weapons, that capability now exists. This development was prophesied by Jesus in the Olivet Prophecy: "And unless those days [the Great Tribulation] were shortened, no flesh would be saved [alive]" (Matthew 24:22).
To learn more about this time prophesied to come, read our article "Great Tribulation."
When we study Matthew 24 together with Revelation 6, we read about a worldwide war that has the capability of destroying all human life. In addition to atomic weapons, other destructive weapons have been invented, including chemical and biological weapons. Nearly every weapon mankind has invented has been used—which paints a bleak picture of mankind's future, barring some major change.
What needs to change?
In his speech, Mr. Matsui used the memory of Hiroshima to call for continuing the "efforts to eliminate nuclear weapons." That's a laudable idea, but there's one problem: Even if we could eliminate all nuclear weapons, we would still face the fundamental problem of human violence (both on the national and personal level). As they did before the advent of the nuclear age, people would still hate and kill one another with whatever weapon they would have available. The real problem is human nature.

Isaiah wrote of man's propensity for violence: "Their feet run to evil, and they make haste to shed innocent blood; their thoughts are thoughts of iniquity; wasting and destruction are in their paths. The way of peace they have not known, and there is no justice in their ways; they have made themselves crooked paths; whoever takes that way shall not know peace" (Isaiah 59:7-8, emphasis added).

Even if nuclear weapons ceased to exist, mankind would not have peace because mankind doesn't know how to have peace.

The prophet Ezekiel describes what is needed to have true peace: "I will give you a new heart and put a new spirit within you; I will take the heart of stone out of your flesh and give you a heart of flesh. I will put My Spirit within you and cause you to walk in My statutes, and you will keep My judgments and do them" (Ezekiel 36:26-27).

The missing component is God's Spirit softening the human heart. Instead of operating based on selfish motives and lust for advantage, mankind will learn to genuinely care about others and their well-being. And most importantly, the human heart will become tender toward God. People will finally yield themselves to the lead and direction of their Creator!

Seventy-four years ago the world descended to another level of death and destruction in war. But the weapon was only a symptom of a much deeper problem, the problem of mankind's self-will and rejection of God's way of living. Thankfully, God will intervene to stop us from completely destroying ourselves with destructive weapons and begin a new world of peace and safety.

Topics Covered: Violence, Historical Events, Science and Technology